Harlequin Romance – July 2014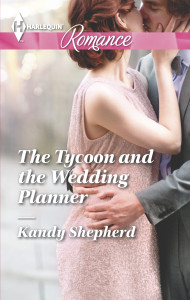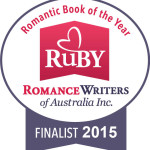 When one wedding leads to another…
Kate Parker distracts herself from her memories by keeping busy—and how better than organising weddings for Dolphin Bay's sweethearts? But tall, dark and handsome tycoon Sam Lancaster's arrival suddenly has Kate forgetting where she has left the confetti…
And mysterious Sam will be around a while longer than the cutting of the cake—because he's got to oversee Kate's building project! There's no time for distractions…but is it time to stop running from happiness, now it's led them to each other?
Buy from…
Amazon  |  B&N  | eHarlequin
———————————————————————————–
AS SHE WENT about her lunchtime front-of-house duties at the Hotel Harbourside restaurant, Kate Parker was only too aware of the ill-concealed interest in her. The too-interested glances quickly averted; the undertones; the murmurs.
Poor Kate.
If she heard—or sensed—that phrase one more time, she'd scream.
Her and her big, big mouth.
Why, oh, why had she made such a big deal of her childhood crush on Jesse Morgan? She wished she'd never told a soul, let alone all and sundry in her home town of Dolphin Bay, that the next time Jesse was back she'd finally let him know how she really felt about him.
Because now he was home, now she had kissed him for the first time since they'd been just kids fifteen years ago, and it had turned out a total disaster. She'd felt nothing. Absolutely nothing. Instead of turning her on, his kiss had turned her off. She'd fought the urge to wipe her mouth with the back of her hand.
And Jesse? He'd been as embarrassed and awkward as she'd been. They'd parted, barely able to look each other in the eye.
She cringed at the memory—as she'd cringed a hundred times already—as painfully fresh today as it had been three days ago when it had occurred.
And now everyone in their small community knew she'd made an utter fool of herself by believing there could be anything more between her and Jesse than the affection due to a family friend she'd known since they'd both been in nappies.
Poor Kate.
The air was thick with pity for her. She looked around the restaurant; many of the tables were already full for Sunday lunch.
She wanted to run out the door, down the steps onto the beach below and get home to lock herself in her bedroom with the music turned up loud.
Instead, she girded herself against the gossip. She forced herself to smile. First, because a warm, confident smile was essential to any role in hospitality. And second, because she couldn't bear for any of those too-interested townsfolk to guess how churned up, anxious and panicky she was feeling inside.
It meant nothing, people, she wanted to broadcast to the room in general. Less than nothing. I walked away from that darn kiss completely unaffected.
But that wouldn't be completely true.
Because the Great Kiss Disaster had left her doubting everything she'd believed about who was the right man for her. She'd discovered the man she'd thought was Mr Perfect was not, in fact. So where did she go next? How could she ever trust her judgement of men again?
Smile. Smile. Smile.
The restaurant in the award-winning hotel was one of the best places to eat in Dolphin Bay. More people were arriving for lunch. She had a job she valued. She wanted to be promoted to hotel manager and she wouldn't achieve that by moping around feeling sorry for herself.
She took a deep, steadying breath, forced her lips to curve upwards in a big welcome and aimed it at the next customer—a man who had pushed his way through the glass doors that led from the steps from the beach and into the restaurant.
She nearly dropped the bottle of wine she was holding with hands that had gone suddenly nerveless. He caught her smile and nodded in acknowledgement.
Where the heck had he come from?
She'd never seen him in Dolphin Bay before, that was for sure.
Dark-haired, tall and powerfully built, his broad shoulders and muscular arms strained against his black T-shirt, his hard thighs against the worn denim of his jeans. His heavy black boots were hardly seaside resort wear, but they worked. Boy, did they work.
No wonder the two young waitresses on duty stampeded past her to show him to the best table in the house. She had to hold herself back from pulling rank and elbowing them out of the way to get to him first.
His stance was easy, confident, as he waited to be shown to a table. Her heart started to pound double-quick time. When had she last felt the kind of awareness of a man that made her ache for him to notice her?
But, when his gaze did turn in her direction, she quickly ducked her head and studiously read the label on the wine bottle without registering a single word.
She looked up again to see the young waitress who had won the race to get to him first looking up at him in open admiration and laughing at something he'd said. Did the guy realise half the female heads in the room had swivelled to attention when he'd strode in?
Not that he looked like he cared much about what people thought. His dark brown hair was several months away from a haircut—shoved back off his face with his fingers rather than a comb, by the look of it. The dark growth on his jaw was halfway to a beard.
He looked untamed. Sexy. And dangerous.
Way too dangerous.
She was shocked by the powerful punch of attraction that slammed her, the kind of visceral pull that had caused her such terrible hurt in the past. That was so different from how she'd felt for safe, familiar Jesse. She never wanted to feel again for any man that wild compulsion. The kind, when it had got out of control, that had led her down paths she never wanted to revisit.
Not now. Not ever.
She let the smile freeze on her face, stepped back and watched the other girl usher the handsome stranger to his table. She would hold off on her obligatory meet and greet to a new customer until she'd got herself together enough to mask her awareness of his appeal with breezy nonchalance. To use the light, semi-flirtatious tone that worked so well in hospitality.
Because, after all, he was just a stranger who'd breezed into town. She'd overreacted, big-time. She didn't need to fear that rush of attraction for an unsuitable man. He was just a customer she would never see again after he'd finished his lunch and moved on. He didn't even seem the kind of guy who would leave a generous tip.