Maddy Cartwright, the heroine of my novel Love Is A Four-Legged Word is a food editor on a woman's magazine and aiming for her own television show. Throughout the novel Maddy refers to several of her recipes. Her culinary creations are not just for humans, they're also for dogs as she creates special recipes for Brutus the millionaire mutt.
I'm putting all the recipes that appear in Love Is A Four-Legged Word – both for humans and for dogs – on this website. I myself  have worked as an editor on women's magazines – and these recipes have been triple tested using both American and metric measurements. However, ovens, kitchens and cooks differ so preparation and cooking times may vary for you.
The first recipes are for Maddy's truly scrumptious Triple Chocolate Brownies with Macadamias (for humans only as chocolate can be toxic for dogs); Honey-Kissed Pear and Pecan Pie, and Brutus's Favourite Pupcakes. My doggy taste testing panel gave these an unanimous "paws up"!
I'd love to hear how these recipes work for you.  I'll be putting more of Maddy's recipes on this website soon – please drop by to see them!
 ———————————————————————————–
CHOCOLATE BROWNIES
Maddy Cartwright, the heroine of my novel Love Is A Four-Legged Word, is a chef working toward her big break as a magazine food editor. She loves rich, indulgent treats and when she first meets the hero Tom O'Brien, she is testing recipes for a magazine feature on "The Ultimate Chocolate Fix". The star of the feature is her fudgy Triple Chocolate Macadamia Brownies recipe. Ambitious lawyer Tom O'Brien spends quite a few chapters resisting not only Maddy's mouth-watering brownies but also lovely Maddy herself. Here's an extract from Chapter One.
She was carrying a plate of brownies. Cholesterol city. They looked like they were studded with macadamias. His favorite. Tom felt his mouth water. How long since he'd allowed himself an indulgence like that?

"I thought you could try one of these with coffee after we'd had our discussion," she said in that gently chiming voice.

After? So she was not only a temptress but also a torturess. "Right." He nodded. "After."

He steeled himself not to drool at the luscious chocolate squares. Or the equally luscious woman who had baked them.
When Tom finally gives into temptation, life suddenly gets a whole lot more exciting – for both him and Maddy!
You'll love Maddy's Triple Chocolate Macadamia Brownies too, and they're easy to make.  Maddy's note: "Because I'm hoping readers outside the US might like to try my brownies, I've put measurements first in ounces and then also in grams."
TRIPLE CHOCOLATE BROWNIES WITH MACADAMIAS:
24 brownies
Time to prepare: 20 minutes
Time to cook: 35 minutes
Maddy says: "Don't even think about the calorie count!"
You will need:
8oz (250g) unsalted butter, chopped
4oz (125g) good quality dark or bittersweet cooking chocolate, (around 60% cocoa content is best) chopped
14oz (500g) superfine (caster) sugar
4 medium size eggs
1 teaspoon (5ml) vanilla extract
8oz  (250g) all purpose (plain) flour
1oz (30g) cocoa powder
Pinch salt
4oz (125g) macadamias, chopped
4oz (125g) white chocolate chips
8oz (250g) good quality milk chocolate for topping, cut into small chunks
Powdered confectioners sugar (icing sugar) to decorate
Method:
Pre-heat oven to 350F (180C) or 325F (170C) for fan-assisted ovens.
Spray  the bottom of a rectangular cake pan, 13 x 9 x 2in (33 x 23 x 5cm) with cooking spray oil, then line with parchment paper (baking paper) so paper hangs over edges of pan.
Heat butter in medium saucepan on very low heat until butter is half melted. Add chopped dark chocolate. Take off heat when chocolate is half melted, stir until completely melted and combine. Keep saucepan off the heat.
Stir in sugar. Then add eggs, one at a time, and stir mixture until it is glossy. Stir in vanilla.
Sift flour and cocoa together and add to saucepan. Mix until blended.
Stir in nuts and white chocolate morsels. Pour mixture into prepared cake pan.
Bake approximately 35mins until a toothpick or skewer comes out clean. Take out of oven. Randomly sprinkle surface with chopped milk chocolate chunks and lightly press down. Return to oven for one minute. Take out of oven for the final time.
Cool brownies in pan. Using edges of parchment paper, lift onto board. Cut into small squares and sprinkle with confectioners sugar to serve.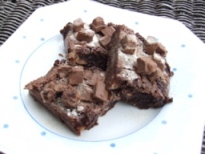 Maddy's tip no.1: Pecans or walnuts also taste great instead of the macadamias.
Maddy's tip no.2: You can use milk chocolate chips for the topping instead of chopped chocolate.
Maddy's tip no.3: The brownies freeze well, but wait until they're defrosted before sprinkling with the icing sugar.
 ———————————————————————————–
HONEY-KISSED PEAR AND PECAN PIE
Maddy loves making desserts. Tom thinks he's got his sweet tooth under control until he meets Maddy. In Chapter Seven through Eight, Maddy is experimenting with a recipe for a pear and pecan pie with a honey glaze.
When Tom and Maddy share their first kiss, he can taste honey on her lips. This scene takes place some pages afterward when they are at her apartment.
"Before you go, why not come in and taste the pie I'm working on? I'd like some feedback on it."
"Pie?" said Tom, a look of yearning on his face. "I thought I smelled pie."

"I'm experimenting with a new recipe, pear and pecan with a honey glaze."

It was Tom's eyes that looked glazed. "You tasted like honey when—"

He fell silent. So did she and the silence hung between them.

"When I kissed you," he slowly finished.
As often happens with recipes developed for magazines, different versions are tested. Maddy started off testing a traditional pear pie with a double shortcrust pastry. Then she decided to try using store-bought frozen puff pastry. This is what she ended up with – strictly speaking it's a tart and it makes a fabulous dessert.
HONEY-KISSED PEAR AND PECAN PIE
Makes: 8 slices
Time to prepare: 35 minutes
Time to cook: 30 minutes
Maddy says: "Crisp puff pastry, honey flavored pears and a pecan topping makes this open pie irresistible!"
You will need:
2oz (60g) raw pecans plus 6 extra for garnish
6oz oz (165g) superfine (caster) sugar
6 medium sized, firm ripe pears
2oz (60g) unsalted butter
1 tablespoon (15ml) honey
1 tablespoon (15ml) lemon juice
Frozen puff pastry sheets to fit rectangular baking tray 11 x 7 inch (28x18cm)
Method:
Pre-heat oven to 350F (180C) or 325F (170C) for fan-assisted ovens.
To make pecan praline: line a metal baking tray with parchment paper (baking paper) and lightly spray with cooking oil. Lightly toast pecans in either oven or by stirring over medium heat in a saucepan. Spread pecans on prepared tray to cool. Put sugar and 2oz (60ml) water into a small heavy-based saucepan. Stir to mix. Bring to boil and simmer over a low heat, without stirring, until syrup is thick and bubbling. As soon as it starts to turn a golden color, remove from heat, pour over pecans and let cool. When completely cool, process in a food processor or blender until the toffee resembles breadcrumbs. Put aside.
Take three of the pears, peel, core and chop into small pieces.
Melt half the butter in a medium saucepan. Add chopped pears, honey, lemon juice and 1 tablespoon of water. Adding more water if necessary, cook over medium heat for about 10 minutes until pear is soft. Mash with fork until pulpy and set aside to cool.
Peel and core remaining pears then slice very thinly.
Defrost puff pastry according to manufacturer's instructions. Roll, if necessary, between sheets of parchment paper to rectangle to fit pan.
Spread mashed pear over pastry, leaving a border of about 1″ (2.5cm) on all sides. Place sliced pears on top, overlapping neatly. Melt the rest of the butter and brush over top of pears. Sprinkle with crushed praline. Place six reserved pecans down center of pie.
Place in oven. Bake for approx 35 minutes until pastry is puffed and golden. Serve warm with vanilla ice cream or thick cream.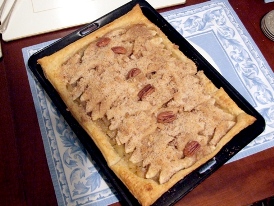 Maddy's tip no. 1: You can use apples instead of pears, if you like.
Maddy's tip no. 2: If you're in a hurry, skip the toffee. Instead chop nuts finely, mix with 4oz (120g) of light brown sugar and sprinkle over top of pears before baking.
Maddy's tip no. 3: This pie is best eaten shortly after baking.
 ———————————————————————————–
DOGGIE CUPCAKES
In my novel Love Is A Four-Legged Word, quirky San Francisco chef Madeline Cartwright is stunned when her eccentric old landlord Walter Stoddard leaves his millions to his dog, Brutus – and appoints her the millionaire mutt's guardian. To maintain the terms of the will and win himself a promotion, ambitious attorney Tom O'Brien has to ensure Brutus stays safe and healthy. He tries to lay down the law to Maddy about what the little dog should eat. Maddy finds Tom a ten-out-of-ten hottie, but unbearably stuffy. Why shouldn't she spoil Brutus with her special dog-friendly treats? On the cover of Love Is A Four-Legged Word, you can see Maddy making the pink frosting for the pupcakes Brutus adores. Here's an extract from Chapter Two:
Tom watched her as she headed for the kitchen, unable to stop himself again from admiring the view. But when he saw what she brought back as a snack for the dog all such thoughts fled. Alarmed, he stood up.

He looked at the pink-frosted cupcake in Maddy's hand. He thought of the dog's arteries. "Are you sure you should be giving that to Brutus?"

Maddy Cartwright's smile was tight. "He's got a serious sweet tooth. I want him to think it's a human cupcake – like Walter used to give him for his birthdays. But this one is stuffed with grated apple, alfalfa, and dog vitamins."

"As well as butter and sugar and eggs?"

"Eggs are good for dogs. Don't worry, I'm not trying to poison him."

"Uh. I didn't say that."

Damn! What was the matter with him? Where was his lawyer cool? He was getting confused here. There was something about this woman's candid green eyes and lovely face that was turning his thoughts upside down.

"Come outside with me and check I don't lace the cupcake with arsenic on the way, why don't you," she said, much too sweetly for the look of loathing she was casting his way.

"Yes I will. Well, not to check up on you but to – " Mentally, Tom slammed himself on the side of the head. What a dumbass thing to say.

He followed it with worse. "But to meet Brutus. Yes to meet Brutus. He is – in a manner of speaking – my client after all."

Did that sound damn pompous or what? Why did being around this girl make his words come out so wrong?
Tom thinks Brutus should be eating kibble, not cupcakes. But Brutus has other ideas.
"If we're to keep that dog alive you can start by feeding it proper dog food – not cake."
"What? You're not serious? Brutus has such a sweet tooth."

"No cupcake," he said.

She glared at him. "That's ridiculous. He's been snacking on my baking ever since I moved in here."

As she argued, she held the cupcake up out of the little dog's reach. But it wasn't high enough. With surprising speed for an animal with stumpy, cabriole legs, Brutus suddenly leapt up, twisted in mid air and expertly snatched the treat from her hand. Maddy gasped and stepped back.

Brutus gobbled the snack down in one gulp and then looked up expectantly for more, begging with his black button eyes. He whimpered. He held up his paw to shake.
Soon Tom starts to find Maddy as irresistible as Brutus finds her pupcakes!  I hope your dog will love them too.
Maddy's note: "Because I'm hoping dogs living outside the US might also enjoy Brutus's pupcakes, I've put measurements first in ounces and then also in grams."
BRUTUS'S FAVORITE PUPCAKES
Makes: 10 pupcakes
Time to prepare: 20 minutes
Time to cook: 30 minutes
Maddy says: "Brutus thinks he's getting a naughty treat but these frosted pupcakes are healthier than they look!"
You will need:
1 medium sized apple
1oz (30g) (or about ½ cup tightly packed) alfalfa sprouts
4oz (125g) wholewheat flour
2 teaspoons (10ml) baking powder
2oz (60g) oatmeal
4oz (125 plain yogurt
1 ½oz (45g) vegetable oil
1 tablespoon (15ml) honey
2 medium size eggs, lightly beaten
8oz (250g) low-fat cream cheese, at room temperature
2 ripe strawberries or few drops natural red food coloring
Method:
Pre-heat oven to 350F (180C) or 325F (170C) for fan-assisted ovens.
Line 10 muffin cups of a muffin pan with paper liners.
Core and grate the apple, (be careful to remove all seeds and core as they can be toxic to dogs).
Finely chop the alfalfa sprouts.
In a large bowl, using a wooden spoon, mix the flour, baking powder and oatmeal. Add the apple and alfalfa sprouts and mix thoroughly. Add the yogurt, vegetable oil, honey and eggs. Mix until well blended but do not over beat.
Fill each muffin cup with mixture to about three-quarters full. Smooth over the surface.
Bake for approximately 30 minutes until pupcakes are lightly browned and a toothpick or skewer comes out clean. Take out of oven. Leave to cool on a wire rack.
In a small bowl, mash strawberries with a fork, add cream cheese and mix with wooden spoon until smooth. (Or tint cream cheese pink with the food colouring.)
Spread frosting over each cooled pupcake.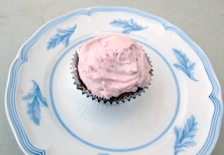 Maddy's tip no. 1: You can add your dog's vitamin or nutrition supplement to the dry ingredients for the pupcakes. Check with your vet.
Maddy's tip no. 2: For special puppy parties, you can garnish the pupcakes with a slice of fresh strawberry.
Maddy's tip no. 3: Use kitchen scissors rather than a knife to snip the alfalfa sprouts.
Maddy's tip no. 4: The pupcakes freeze well.
DOGS TEST THE CUPCAKES
When Maddy creates new recipes for her magazine features, she always tests the recipes on a test-taste panel. The staff of the magazine are only too keen to volunteer!   Working on Maddy's dog-friendly recipes for this website, I had to do the same thing. Only the taste testing panel was composed of canines!
Brutus's Favorite Cupcakes: Tester no. 1 – Lily, a four-year-old miniature poodle.
In Love Is A Four-Legged Word the millionaire mutt hero Brutus has a black poodle girlfriend named Coco. I couldn't believe it when I met my new neighbor's dog, Lily. She is exactly how I imagined Coco. In fact I keep finding myself calling her Coco!
Lily's owner Claire says Lily is a typical poodle – very fussy about her food. But Lily gave the pupcake a resounding paws up.
First – just like a little kid – she licked off every bit of the strawberry frosting. Then daintily snuffled down the cake. She even licked the paving for that last elusive crumb. Of course we then had to give her another one!
PUP PARTY
Cobber, the Fox Terrier, has too big an appetite for such a little dog and is battling a weight problem. His owner Kyle doesn't give him a lot of treats. But, as it was his birthday, she decided to throw a puppy party to test Brutus's Favorite Pupcakes for me. She invited his room mate Kaydee (a 14-year-old Maltese), and his best friend Sampson (an 8-year-old Pomeranian).
As Cobber is a rescue dog, Kyle doesn't know the date of his birthday so she celebrates on the anniversary of the day she picked him up from the shelter. She figures he's around 7 years old.
Cobber and Sampson managed to sit still long enough for "Happy Birthday" to be sung. Then they wolfed down the pupcakes. Within seconds all that was left was the candles. And little Kaydee? All she got was a nibble before she let the bully boys polish off hers as well!
Recipe testing a resounding success. Thanks to Sampson's owner Chris for the photos.